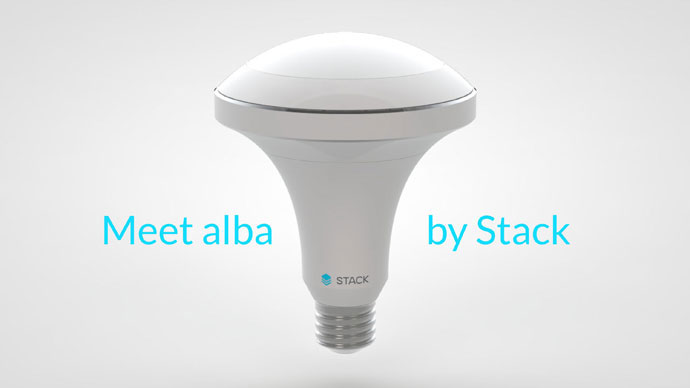 There are plenty of light bulbs on the market today which bill themselves as being smart. They connect wirelessly to your network via WiFi or Z-wave empowering you to control your lighting with a smartphone and to schedule the time of day when they should turn on or off. But there's a new bulb on the horizon that may make all other smart lights look dumb by comparison. Stack Lighting is upping the ante with their Alba LED light bulb. Check out the video and more details by clicking read more for the full article.
The concept behind smart bulbs is that they provide you the convenience of more ways to control your lighting, so you don't have to reach for the light switch every time you want to adjust the lighting in a room. They still have their limitations though as you're still required to manually interact with something to turn them on or off, or connect them to a home automation controller to gain true smart lighting capabilities. Alba aims to change the way you manage the lighting in your home or business by providing a bulb that's not only smart, it's also responsive.
Sensors Enable Responsive Behaviors
The Alba relies on motion and light sensors contained within it to detect when it's needed and when it's not. Those sensors provide the bulb all the intelligence it needs to make decisions and respond to changing conditions.
The light sensors ensure that the bulb produces only the necessary amount of added light to maintain the proper levels for a particular room's use. This keeps the lighting levels in a room consistent while also maximizing energy efficiency. Another brilliant feature Stack has included is using the light sensors to detect when it's day or night. During the daylight hours the bulb produces a whiter light to match the natural light coming from the sun. In the evening it produces a more yellow, candlelight like illumination to which most people are accustomed.
Motion sensors contained within the bulb detect when people enter or leave a room. This enables it turn on when you walk into a room and turn off when you leave...automatically, with absolutely no human interaction required. Provided the bulb delivers high reliability on the motion sensing it would mean the end of lights being left on in a room when it's devoid of people, parents rejoice!
Similar to the Nest Thermostat the Alba bulbs are designed to learn from your patterns and adjust their operation accordingly. While there is an app to adjust the settings yourself, the goal is for the Alba to automatically anticipate your preferences and not require you to use it.
Availability and Pricing
The Alba is scheduled for release sometime in the 1st quarter of 2015. It is currently available for pre-order on their web site, stacklighting.com. Starter kits consisting of a hub and 2 bulbs range from $100 for a kit including A19 bulbs to $150 for one with BR30 bulbs. For more information on automated lighting, it's capabilities, and how you can benefit from adding it to your home, be sure to visit our smart lighting page on the topic.