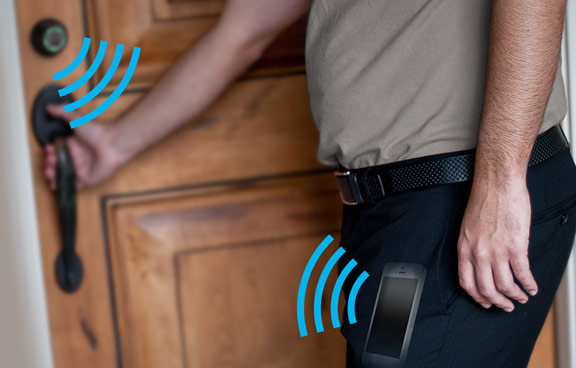 'Tis the season to be jolly and we're spreading the joy with our own take on the 12 Days of Christmas. Each day we will feature a different aspect of home automation and integrating all the devices in a home which turn it into a smart home. On the 4th day of a Smart Home Christmas, we bring 4 connected door locks.
What they do
Door locks are found everywhere we go and they've been a part of our lives for centuries. They work to keep our loves ones and possessions safe while allowing the people we trust entry into our homes. But for as long as there have been locks on our doors, people have been locked out by them, forgotten to lock them on our way out, and lost keys. Which begs the question, isn't there a better way to address this? Everything else in our lives is becoming smarter. Smartphones, smart tv's, smart cars, smart homes, why not smart locks? Yes, locks have joined the ever growing list of intelligent, connected devices. They are the 4th way we're introducing to you to make a home smart.
Connected door locks or digital door locks provide control over your doors on a smartphone from wherever you may be. They come in a variety of configurations including features such as built-in keypads, Z-Wave, ZigBee, bluetooth or NFC communication, and come with or without keyholes. Getting locked out of the house is a thing of the past as they offer multiple ways of being unlocked. Enter a keycode, unlock them with your smartphone, or use the old fashioned key. Many units are capable of integrating with a home automation system leading to even greater awareness, plus all the additional benefits and features a smart home system affords. Outside of connecting to your automation system, some models offer alerts to notify you of activity, tampering, or forced entry of your door. A great feature for enhancing the security of any home. These locks pack a lot more capabilities into them than the old standard, mechanical door lock.
How they do this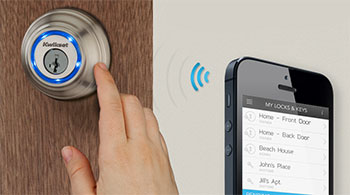 Connected door locks have two basic components which make communicating with them possible. One, wireless radios which are built-in, and two, an application on your phone to connect with the locks. A setup guide which is included with your product will walk you through how to link everything up.
As we mentioned in the previous section, there are models available that are compatible with Z-Wave, ZigBee, bluetooth, or NFC communication. These are different technologies for communicating wirelessly with your phone. Some, such as bluetooth and NFC require you to be close by, while the others have no limitation on distance.
We recommend that you verify what technologies are used by any other smart devices you may have already in your home. Unless you have a universal hub, it's best to stick with the same technology. Otherwise you could be setting yourself up to use a different application for each set of devices you have.

Why they Matter to You

There are a lot of reasons digital door locks are worth the cost. Connected door locks improve the security of your home and property by removing the risk of lost or stolen keys. Plus they provide a way to lock the doors from anywhere in the event you forget to before you leave. You can keep apprised of the status of the doors and be alerted if someone tempers with them or forces entry. And they empower you to address life's unexpected surprises and you can't always leave work to address them. With these devices you can let the kids in if they are locked out, or let a contractor in to address an urgent repair. All without skipping a beat at the office. Connecting them with a smart home automation system opens the door to more enhanced capabilities such as using geo-fencing to trigger the locking and unlocking of the doors automatically. Check out our pages dedicated to adding controls to your home and smart home automation, or contact us to learn more.
Links to the Other 12 Days Articles:
Day 3: Garage Door Sensors and Controls
Day 5: Water Leak Detectors
Day 6: Motion and Occupancy Sensors
Day 7: Smart Irrigation Controls
Day 9: Motorized Window Coverings
Day 10: Connected Security Sensors