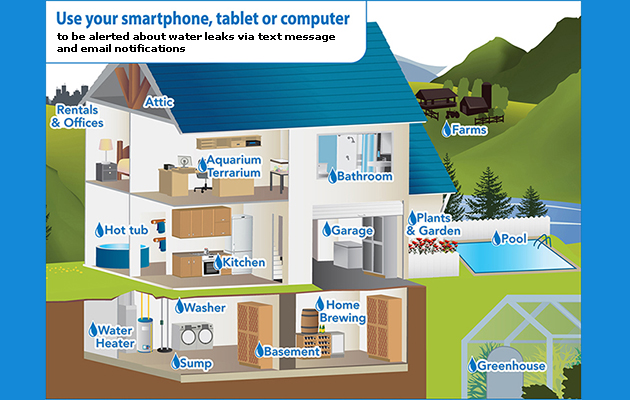 'Tis the season to be jolly and we're spreading the joy with our own take on the 12 Days of Christmas. Each day we will feature a different aspect of home automation and integrating all the devices in a home which turn it into a smart home. On the 5th day of a Smart Home Christmas, we bring 5 water leak detectors.
What they do

Water pipes, sump pumps, and appliances aren't immune to failure. Cold winter temperatures and general wear and tear eventually get to the best of them. If a homeowner is fortunate, they will be present when a failure happens. But what happens if you're not? The water continues the flow out, spreading to flooring, cabinetry, and prized possessions. It's those times when water leak detectors, also know as water leak sensors, become your best friends. Placed in locations where water leaks are most likely to occur, such as next to sump pumps, dishwashers, laundry washers, toilets, and sinks; their purpose is to alert homeowners of water leaks when they occur rather than when someone discovers them. The point of which is to allow you to take action to stop the leak before it can cause damage. Connecting them to a home automation system provides the greater benefit of triggering connected water shutoff valves to close, ensuring the flow of water is stopped at the source of the leak. These handy little watchdogs can really save homeowners a bundle when it comes to avoiding potentially expensive water damage and they are the 5th way we're introducing to you to make a home smart.
How they do this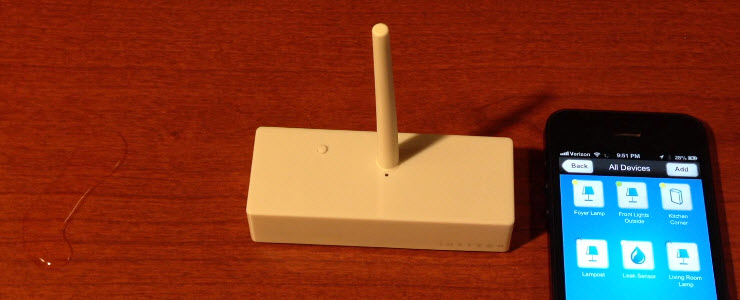 Water leak sensors have two contacts which are located along the side or bottom of the detector. When liquid comes in contact with both contacts it creates a conductive bridge between them. The completed circuit signals that water is present. triggering the sensor to what is essentially a violated state. The sensors can send audible alerts when connected to bells or other audible alarm enunciators, or they can be integrated with a security system, home automation system, or wireless transmitter to send out a notification.

Water leak detectors come in both wired and wireless forms. Like many of the other devices we've discussed in this series, there are models available that are compatible with Insteon, ZigBee, and Z-Wave. These are different technologies for communicating wirelessly with your phone, security system, and home automation system.
When considering wireless models, we recommend that you verify what technologies are used by any other smart devices you may have already in your home. Unless you have a universal hub, it's best to stick with the same technology. Otherwise you could be setting yourself up to use a different application for each set of devices you have.

Why they Matter to You

Sooner or later a sump pump will fail, your hot water tank will leak, or your dishwasher or laundry washer will malfunction. Being alerted quickly when it happens can mean the difference between a small mop up or major water damage leading to an expensive insurance claim. While the kids make delight in the fact that there's a waterfall suddenly flowing down the steps of your home, it's the last thing a homeowner wants to come home to discover. A few well placed water leak detectors connected with a smart home automation system or home security system will notify you of potential water problems, providing an opportunity for you to head off the problem before it becomes costly. Check out our pages dedicated to adding controls to your home and smart home automation, or contact us to learn more.
Links to the Other 12 Days Articles:
Day 3: Garage Door Sensors and Controls
Day 6: Motion and Occupancy Sensors
Day 7: Smart Irrigation Controls
Day 9: Motorized Window Coverings
Day 10: Connected Security Sensors